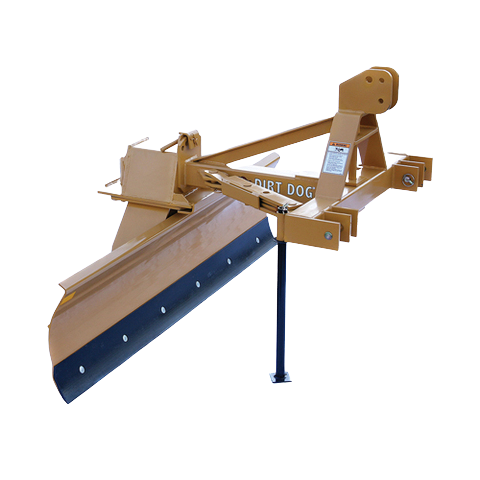 Rear Blades – 70 Series
Dirt Dog's 70 series rear scrape blade has withstood the test of time because it works. The 70 is one of our oldest, durable designs but remains the best scraper blade in its class. The fully welded A frame uses a triple lug hitch that is cat I & cat II quick hitch compatible. The 70 comes standard with a manual pinjack to offset the blade up to 18" right or left. The reinforced, formed 5/16" moldboard uses a reversible and replaceable ½" x 6" cutting edge to dig deep, rolling the dirt, making this blade the perfect option for leveling, grading and ditch digging. Angling the blade is simple, pull the index pin and the blade rotates up to 45° right or left. The 70's moldboard also tilts up to 30° in either direction with a pull of a pin. Dirt Dog's 70 series comes in 72", 84" & 96" widths and is available in red, green, orange, blue or classic Dirt Dog yellow powder coat paint.
We pride ourselves on being American made, and offering a quality product at a competitive price.
Have any questions? Don't hesitate and contact us. We're happy to help.